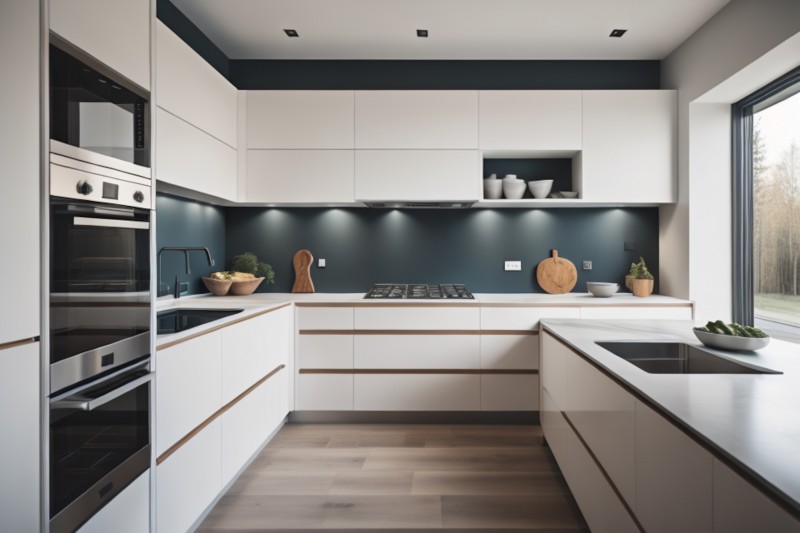 Are you selling a property in Northampton? You'll know that it can be a daunting task attracting viewers and getting offers on your property, because how do you know the things home buyers want when searching for a new home?
To help you, our expert team of estate agents in Northampton have come up with a definitive list of what are the things home buyers want. So, if you're looking to sell your home in the near future, read on to discover the 10 most in-demand features buyers look for in a new home!
1. Open-Plan Living Spaces
Gone are the days of compartmentalised living. Today's home buyers are on the hunt for spacious, open-plan designs that allow for flexibility and flow between rooms. The modern homebuyer's preferences have evolved from enclosed rooms and defined spaces to open layouts. Whether it's to accommodate a growing family, entertaining guests, or to encourage a more communal style of living, these versatile spaces are adaptable. Large spaces with natural light allows easy supervision of children, improved sociability and the feeling of spaciousness.
2. A Home Office
With remote working now commonplace, a dedicated home office is a necessity. Buyers prefer a dedicated space that's well-lit and quiet, offering a productive environment away from the hustle and bustle of family life. Buyers now consider home office design details including storage options and a door or divider to separate the workspace from the living area, as this promotes better focus and allows for a healthier work-life balance. Our Rugby office recently posted an article detailing easy ways to make a home office comfortable which includes some great tips!
3. Outdoor Spaces
You might have noticed a surge in garden renovations and patio makeovers in the past few years. That's because outdoor space is a premium feature. Buyers want space for children to play and explore safely, and they also want to be able to eat and entertain outside, using their gardens as an extension of their interiors. Buyers are also seeking low-maintenance gardens with landscaping and smart use of space. For the summer months, make sure your garden furniture stays in great condition!
4. Energy Efficiency
The increasing costs of utilities have led to a surge in popularity for energy-efficient homes among buyers. They are now seeking features that not only help save money but also contribute to a greener and more sustainable living. Some popular energy-efficient features include double-glazed windows, solar panels, and smart home systems that offer innovative control over energy consumption from a smartphone or other device. Additionally, buyers are looking for efficient insulation, energy-saving appliances, and advanced heating systems, which all contribute to a reduced carbon footprint and lower utility expenses.
5. A Modern Kitchen
They say the kitchen is the heart of the home. And what buyers want is a kitchen that's not just functional, but also modern and stylish. But beyond that, they're also seeking top-notch appliances, which contribute to the kitchen's overall look and feel. Innovative storage solutions, like pull-out pantry systems are also high on buyers' wish-lists.
6. En-Suite Master Bedroom
Who wouldn't want a hotel-like experience right in their bedroom? An en-suite master bedroom offers that extra bit of privacy and luxury that can make all the difference in your daily routine. Buyers value a spacious master bedroom with an en-suite bathroom equipped with modern fittings such as a large shower, and a high-spec finish. Additionally, ample cupboard space or a walk-in wardrobe is desirable.
7. Location, Location, Location
Whether it's being in a top-rated school catchment or a stone's throw away from amenities, location is and will always be important to buyers. Proximity to local amenities such as supermarkets, restaurants, parks, and healthcare facilities increases a property's appeal, considering the convenience and lifestyle benefits it offers to potential homeowners. Additionally, properties in quiet neighbourhoods, those with stunning views, or situated near public transport links are highly sought after.
8. Ample Storage
Let's face it, we all have too much stuff! Ample storage solutions, such as built-in wardrobes and loft spaces, are high on the list for potential buyers. In addition potential homeowners also appreciate other clever storage solutions. These include built-in shelves and pantries that make the best use of available space. A shed or a garage is also appealing.
9. Pet-Friendly Features
With pet ownership at an all-time high, features like a mudroom for your four-legged friend and a securely fenced garden are fetching a premium. A securely fenced garden provides not only safety but also a free space for pets to run around, play, and get their daily exercise. Additionally. it gives pet owners peace of mind knowing their furry friends can enjoy the outdoors without wandering off.
10. Smart Home Tech
It's not just about a good Wi-Fi connection anymore! From video doorbells to smart thermostats, technology that simplifies life is a major selling point for today's home buyers. These advancements provide added comfort, convenience, security, and even energy savings – all wrapped into the modern smart home experience. Video doorbells, for instance, not only provide convenience with features like contactless deliveries but also enhance home security by allowing homeowners to monitor their front doors remotely via smartphone apps. Similarly, smart thermostats let residents control temperature settings based on their daily routines and preferences, optimising comfort while increasing energy efficiency.
Wrapping It All Up
So there you have it!
When it comes to what are the things home buyers want, these are the top 10 features home buyers in Northampton are craving! If you're in the market for a new home, consider this your ultimate checklist. And if you're considering selling, think about how many of these you can offer!
If you're still unsure about what to look for, reach out to Horts Estate Agents. We specialise in property in Northampton.
Contact us on 01604 639933, book a valuation or email northampton@horts.co.uk for a chat.