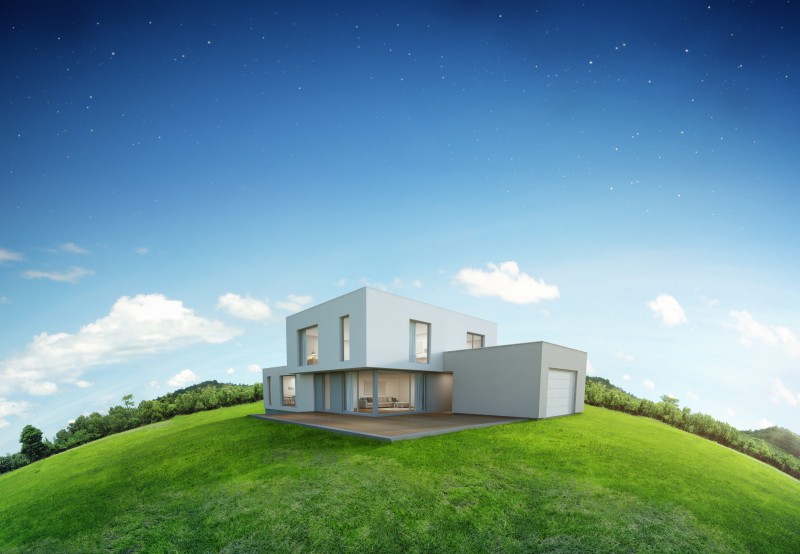 Have you ever dreamed of building your own home? Are you looking for land for sale? Are you ready to make your dream home a reality?
A self-build home refers to a single property commissioned by an individual, built to their bespoke specifications.
Millions of people in the UK dream of designing and building their property, but only a handful ever follow through with this ambition, with less than 10% of homes in the UK being self-build properties.
But you could make it a reality, starting with the five core steps involved in any self-build journey.
These steps are an overview of what to expect, but of course, all builds are different and there are many factors involved.
Step 1: Researching Properties and Budgeting For Your Project
Thoroughly researching the specific area and style of home is essential before you begin enquiring about any land, going up and down the high street may not be enough, it would be a rare opportunity if it did! You need to be viewing property websites, finding "land for sale" signs you'll rarely find what you're looking for at one source
Detailed research will also help you put together a realistic budget for your dream home.
A 10% contingency budget is also recommended to account for before you consider purchasing on a land site to cover any unexpected costs that may occur during the development of the property.
Step 2: Finding A Building Plot For Sale
The best advice for those searching for a plot of land is to keep an open mind. Maybe there's lapsed planning permission that you could locate and acquire.
Whilst searching, create alerts to help get extra information sent to your emails on listings for sale.
The search for the right property will take some time, you may find a location near Station Island for example, but the site isn't right for you or the retail market price doesn't fit your budget.
It is important to consider a range of sizes and locations that are available on the market at different price points when applying for planning permission. If you want your house or flat built.
Stamp duty is payable only on the cost of the land, rather than the value of what will be built upon it, so finding the right residential area is key when planning.
Full planning permission is valuable and a building plot for sale can make a dream home. This is a rare opportunity! If you are interested read on as building plots need some work to become a full property development ready for the market.
You will need to engage the services of a suitably qualified and experienced professional to turn your vision into reality.
This could be an architect, designer, building Surveyor or Quantity Surveyor. A Chartered Surveyor can offer professional guidance on all aspects of buying land.
Land databases, estate agents, and auctions are great places to start searching for the perfect plot of land.
Step 3: Choosing Your Dream Team
When embarking on a self-build dream home project, you need to make sure that the team designing and building your house is up for it.
The architect will help you design your building and plan for the future. The word "architect" comes from a Greek term meaning plot or groundwork, which reflects how important their role really can be in designing structures that last! They're valuable when it comes down to planning out what's going on with our buildings today. Investigate the architects of the builds you admire, and word of mouth is generally the best way to find reliable workers in any town.
Your architect, especially if local to the build, will be able to recommend the best team based on the links and connections they have made.
Having a solid group of tradespeople will make for the smoothest dream house self-build. Remember to have comprehensive insurance in place before any work commences.
Step 4: Preparing the Plot and Begin Building Your Dream Home
Many steps may need to be taken before the building process can commence. This might include getting a request for electricity and water for the plot. Additionally, for remote builds, a road may need to be created on the land leading to giving access to the development site.
Moreover, vegetation may need to be removed, and the ground will likely need to be levelled. These factors can all dramatically alter the timeline of your build.
Step 5: Finalize and Enjoy!
The final and most enjoyable step includes completing your home and watching your vision come to life. Decorating and furnishing the property will help tie the elements together, creating a beautiful and functional space.
Building your own home can be an extremely rewarding experience, giving you a unique place to call your own.
Don't forget to claim back your VAT and obtain your completion certificate!
Get registered with Horts for local updates
For support in Northampton, Rugby and the surrounding areas
Give our estate agency branches a call 01604 639933 for the Northampton branch or 01788 550044 for the Rugby branch.
A member of our friendly and experienced estate agent team will be happy to speak with you further.
Alternatively, you can request a valuation here.